Inclusive, Respectful, Safe
Queens Chamber of Commerce
SPECIAL OFFER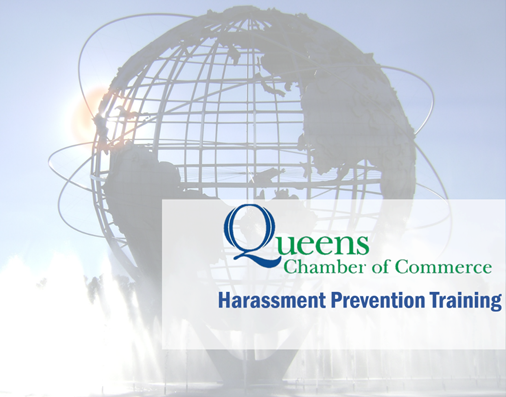 FAST, EASY, and AFFORDABLE Harassment Prevention online training.  Our courses meet all NEW YORK CITY AND STATE requirements and include a certificate of completion.
Queens Chamber is offering members a discounted price of $20.00 per training course. Non-Members can also purchase the course at a discounted rate of $27.00
To access your Member only Discount code login to your Queens Chamber Membership and go to the  MEMBER AFFINITY BENEFITS tab. Non Members can use discount code - QUEENSCC2.
More Info/Purchase NON-SUPERVISOR VERSION OF ONLINE TRAINING
More Info/Purchase SUPERVISOR VERSION OF ONLINE TRAINING
Harassment Prevention Courses meet the State of New York and New York City's training requirements by including specifics that cover:
How to recognize and prevent retaliation

How to appropriately report sexual harassment

Bystander and third-party intervention
For more information or to view a demo about Harassment Prevention or any Safety-First Courses, contact info@savocaenterprises.com

---
FAQ
NEW YORK HARASSMENT PREVENTION
REQUIRED ONLINE TRAINING
When are the deadlines for providing training for both New York City and New York State?
The deadline for providing training for New York State is October 9, 2019.
New York City employers began training April 1, 2019 and have until December 31, 2019 to comply.
Who requires training?
All employees in New York State, even if they live out of state, but work in New York
Any employer bidding on a New York contract, must provide proof of training for all employees
All workers, regardless of immigration status
Exempt or non-exempt employees, part-time workers, seasonal workers, temporary workers and interns
How often is training required?
Annual training is required for New York State and New York City.
What are some of the differences between NY State requirements and the Stop Sexual Harassment in NYC Act?
New York State
Employers with over one employee must provide sexual harassment prevention training

New York State requires training within 30 days after employment

Employers are encouraged to keep a signed acknowledgment and to keep a copy of training records
New York City
Employers with more than 15 employees (including interns) must provide sexual harassment training

New York City requires training within 90 days after employment

Training must include information about the importance of bystander intervention

Managers will need to be provided with additional training

New York City requires employers to keep a signed acknowledgment and record of completion for three years
What about contractors, subcontractors, consultants and vendors I do business with? Beginning in January 2019, all state contractors must submit an affirmation that they have a sexual harassment policy and that they provide annual training to all their employees.
What does bystander training mean?
New York City Law requires bystander intervention training. Bystander Intervention is the idea that we all have a role to play in the prevention of harassment in our workplace. A bystander is someone who witnesses an event and has the ability to help.
---
---