Champion Elevator Corp.
New York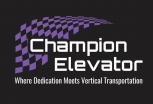 Champion Elevator is offering a GREAT opportunity for a few Quality Sales Representatives!
The job is very challenging and can be extremely rewarding. Champion will train you so that you can be successful in this new time of dramatic culture and societal changes.  With Champion training, good coaching, and the right attitude, you will attain sales skills and become extremely successful. 
Here at Champion elevator the salesperson we seek must have charisma, be transparent, and have good energy!
Champion requires the below:
Honesty: Great salespeople act with integrity. Their customers trust them, and so do their coworkers. They know building trust and providing accurate information to customers results in years of return business and referrals. An honest approach to business always gives a positive first impression, which is essential to a salesperson's success.
Energy:  Successful salespeople thrive in a fast-paced atmosphere. We provide a good base salary and also a Commission-based salary necessitate efficient use of time and competitive sales goals. The most successful salesperson is the one who maintains high energy levels throughout the day, adding life to the workplace and excitement to their customer base. Coworkers and customers are glad to see them, because they make the environment more fun for everyone.    
Excels at Difficult Jobs: If you are the type of person who enjoys working hard you will likely continue working hard as a dedicated member of a sales team. If you enjoy working under pressure and rising to the challenge, you have the potential to be a sales superstar here at Champion Elevator. 
Self-motivated: Salespeople must earn their own commissions as well as our unique "split/commission program", so a successful seller must be able to motivate themselves to work productively throughout the entire day. You must juggle new customers, long-time customers, emails, and phone calls while providing accurate information and exceptional customer service to each individual client. New salespeople must effectively network and build a customer base while keeping up with the company's standards and goals.  
Likable and Persistent: Champion salespeople must remain positive and friendly even when customers are not receptive right away. Success in sales at Champion requires charisma. The ability to maintain a positive, upbeat attitude for several hours at a time is a tool that all salespeople need.  Knowing that you are going to hear many "No's" throughout the day should be expected, and you must maintain that always up-beat attitude.
Strategic Listening Skills:  Successful salespeople find customers anywhere, and often they can transform any customer interaction into a sale. Your next sale might come from a neighbor, a friend, a stranger at the grocery store, or even a customer that has come in to your workplace to complain. Great salespeople love to talk about their job and how their company is the best team around. They always carry business cards, and they specialize at sparking the interests of others in the products or services they sell. 
Goes the Extra Mile: Champion salespeople must find a balance between seeing every person as a potential customer and seeing every customer as a unique person. The best salespeople take the time to chat with their customers and invest in their business relationships. There are numerous ways to grow relationships with customers, including: 
Memorizing customer's names

Remembering a personal fact about customers (favorite sports team, hobbies, etc.)

Do homework and research on the client AND their industry

Site & Management Company Visits to check and offer any assistance

Asking customers to refer you to friends and family
Social Media Presence: A champion salesperson must be comfortable interacting with customers on social media. When potential customers are looking for products and services, they will most likely find you on social media first, read your reviews, look for vital information such as location and hours of business, and message you to ask specific questions. Champion salespeople must maintain an active and positive social media presence by keeping information current, sharing links and articles that might be of interest, and responding to customer messages rapidly. You must constantly be aware that your social media presence is being watched. 
A career in sales can be exciting and rewarding if salespeople prepare themselves for the demands and rigors of the job. Champion salespeople can learn how to use LinkedIn and Facebook effectively and improve your time management skills with experience. If you are a person who is highly motivated, friendly, and energetic, you will thrive in a sales career with Champion Elevator.
If you feel you are aligned with the above information we welcome speaking with you.
For More Information please contact employment@champion-elevator.com and see https://championelevator.isolvedhire.com/jobs/
Location
1450 Broadway
5th Floor
New York, NY 10018